At Highform, we work with developers and multifamily property managers to create marketing strategies and technologies to drive Class-A lease-ups, and innovative digital marketing for stabilized communities. With the coronavirus pandemic wreaking havoc on the ability to reach potential residents, we decided to conduct a survey of renters to learn more about what they're thinking, their concerns about the pandemic, and the best ways to market to them in this time.
Our survey ran between March 30 and April 3, with 1,021 respondents who are renting an apartment in the top 30 markets in the US.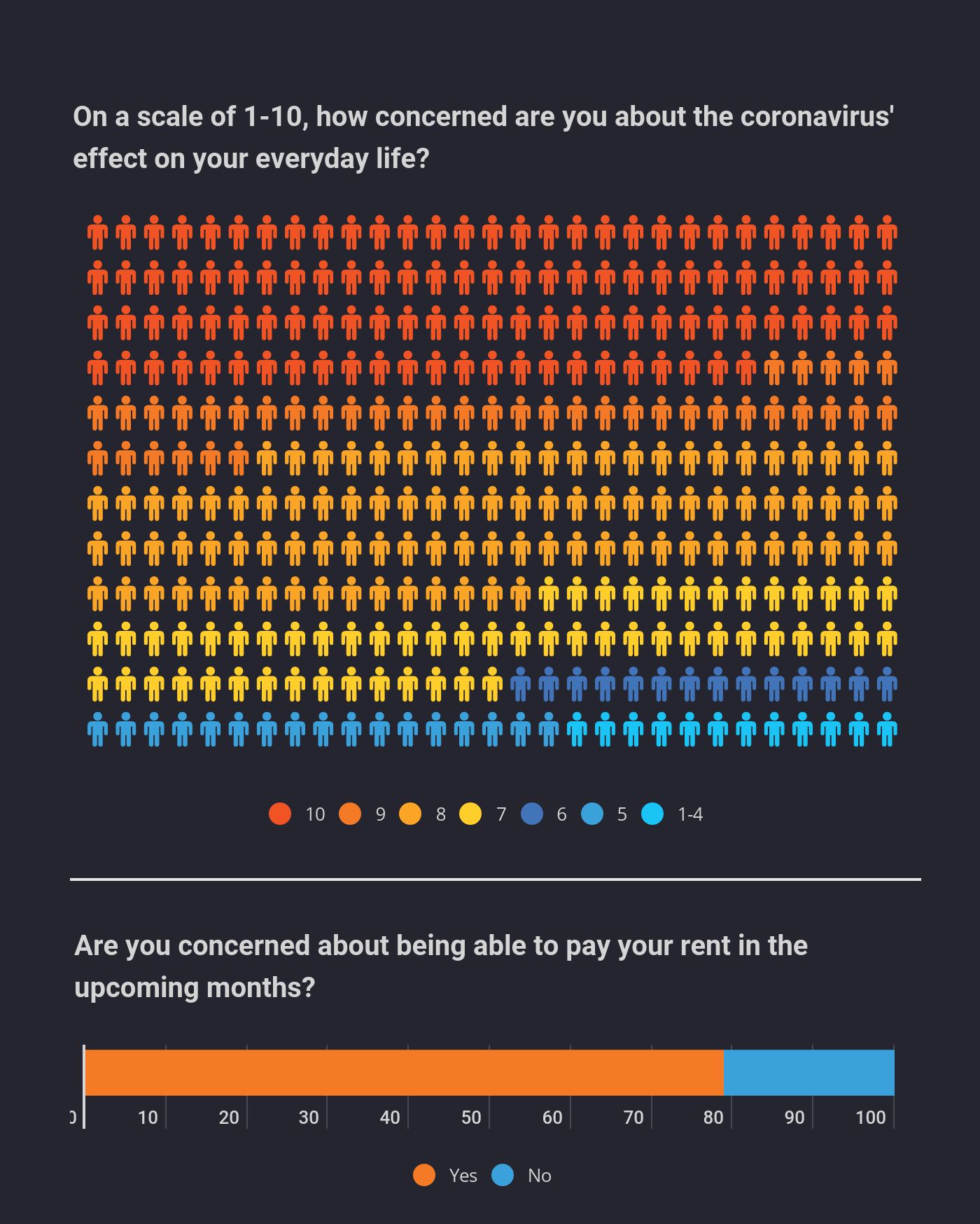 Renters are highly concerned about the pandemic in general, and their ability to pay rent.
The vast majority of respondents indicate a high or very high level of concern about the coronavirus pandemic, with over 78% of renters worrying about the ability to pay their rent in the upcoming months. Among the 71.5% or renters with a level of concern of 8 and higher, 26.3% have changed their mind about whether to move or renew at the end of their lease.
8.21
Average level
of concern
71.5%
Level of concern
8 and higher
78.9%
Concerned about
ability to pay rent
Recommendation
Consider creative concession packages like 3 months free on a 15 month lease, with an increased rental rate on the remaining 12 months, or partnering with a moving company specializing in sanitized moves to give a credit to new leases.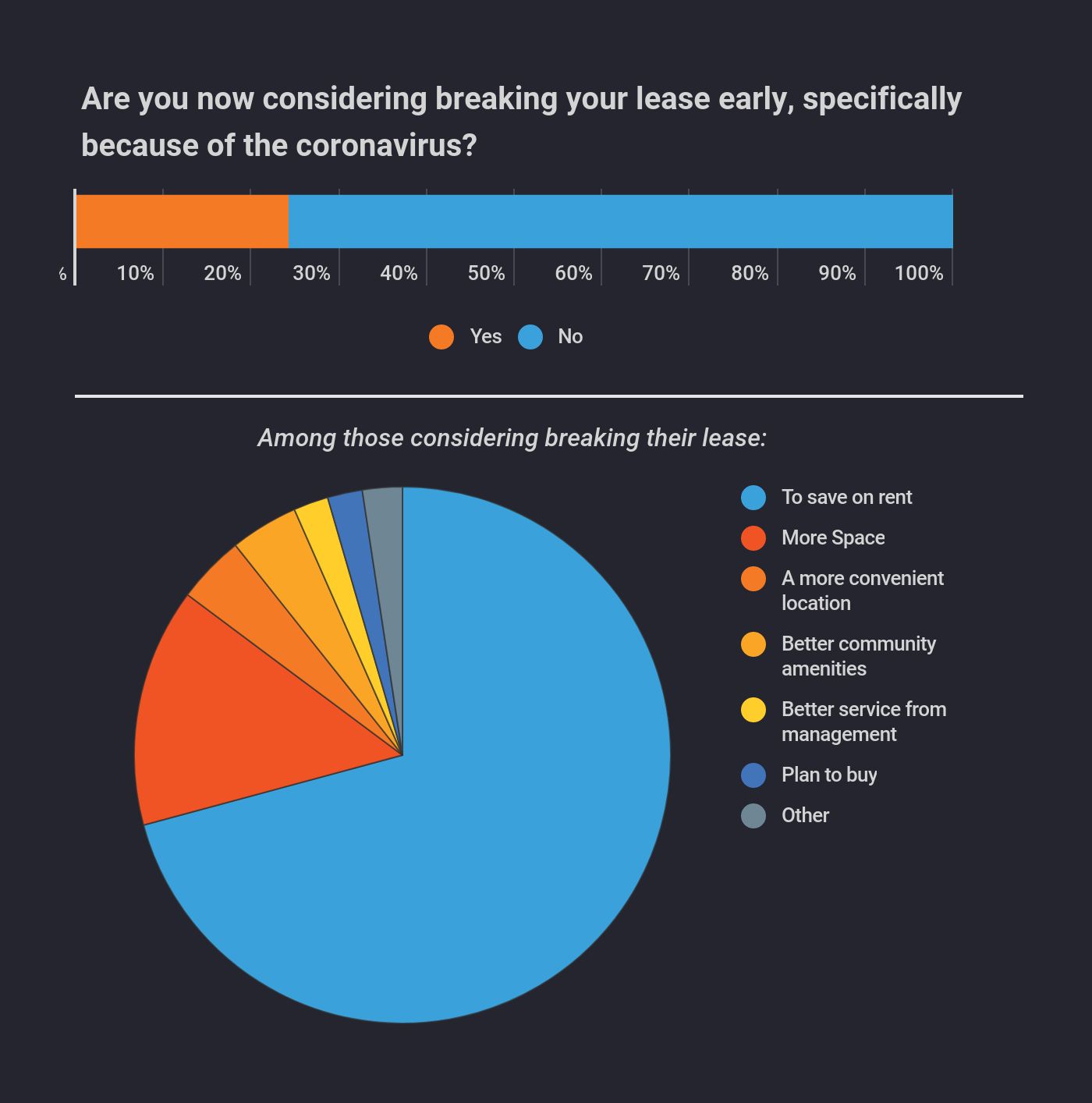 Economic anxiety driving a large number of renters to consider breaking their lease early.
More than 24% of respondents are now considering breaking their lease early, specifically because of the coronavirus pandemic. The vast majority of those considering a lease-break indicated a desire to save money on rent as the main motivator, while 14.4% of that group want more space, as the number of renters working from home rises.
24.2%
Considering
breaking a lease
Recommendation
Get ahead of lease-breaks by considering a rent relief package that works for your budget. If a renter loses their job because of a coronavirus related lay-off, it may be less of a hit to NOI to resturcture their rent than to fill another vacancy.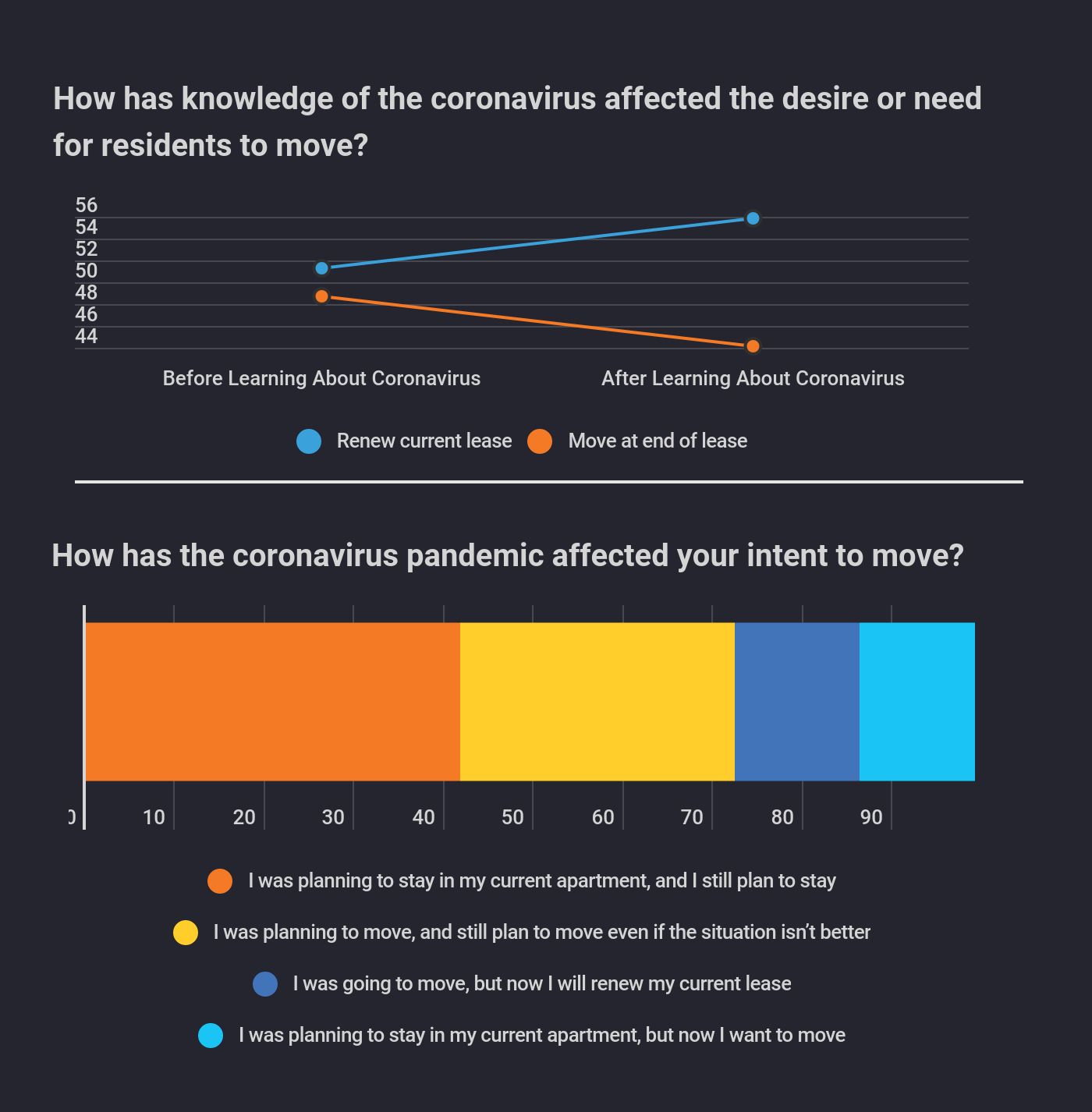 Coronavirus concerns causing renters to change their mind about renewing a lease or moving.
Before learning about the coronavirus pandemic, respondents were separated by less than 3 percentage points when it came to their intent to renew their current lease or move. Now, intent to renew current leases is more than 11 points above intent to move. 13.9% of all respondents said they were originally planning to move, but now they will renew their current lease, while 12.9% originally intended to stay in their current apartment, but now plan to move.
Nearly one third of respondents originally intending to move out of their current apartment are now planning to stay, while 23.5% of renters originally planning to stay now want to move. Among those who have changed their mind, 65.4% indicate saving money as the reason, and among all people with an intent to move, 29.2% list more space as the reason.
26.8%
Changed their mind
about moving/renewing
29.2%
Of movers
want more space
8.7%
Increase in
intent to renew
Recommendation
Though stabilized communities will generally see more lease renewals than usual, attracting new renters to fill vacancies will be more of a challenge. Highlight the functionality of space in your marketing messaging.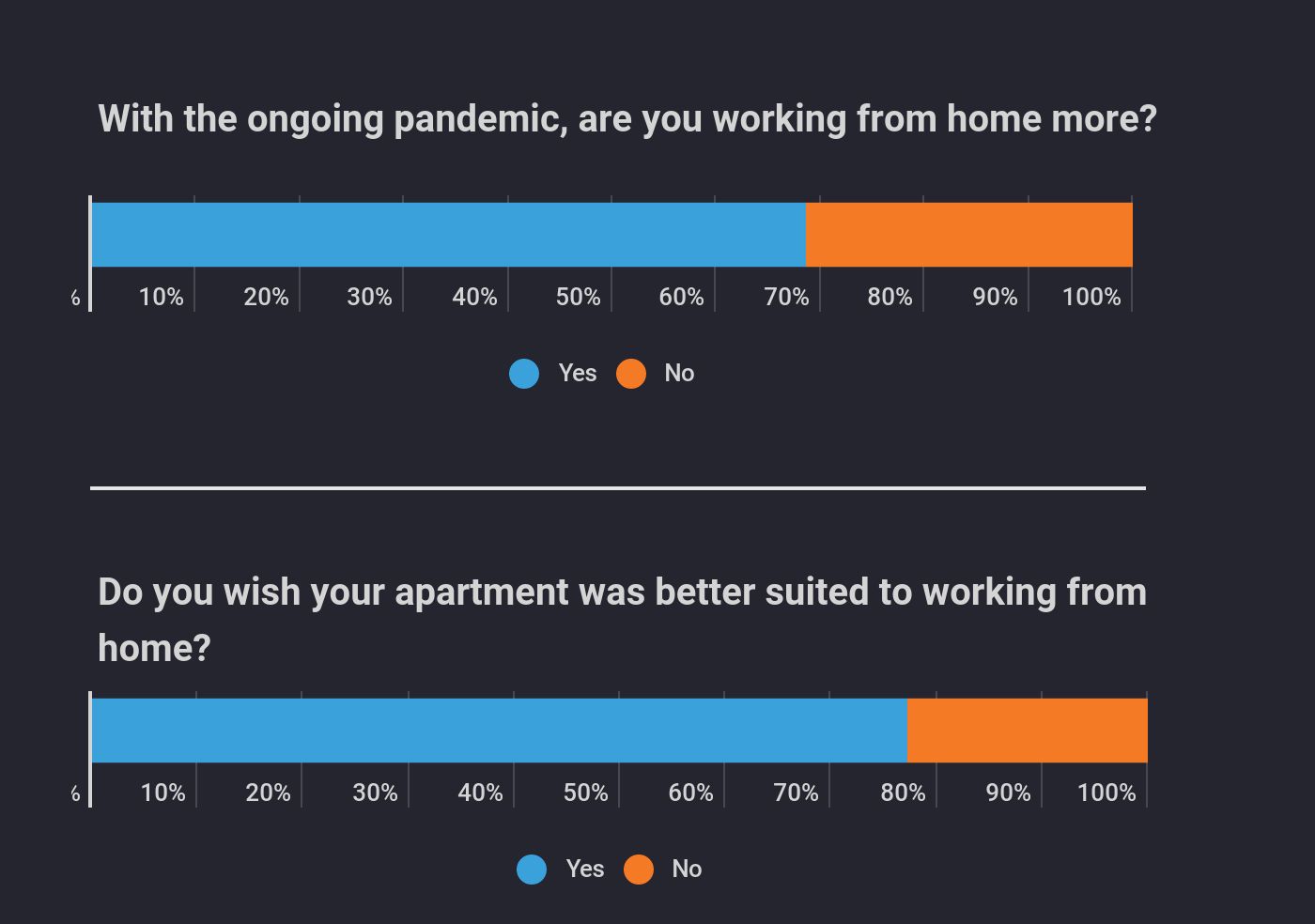 Working from home causing more renters to prioritize space as a motivator for moving.
The fact that more renters are working from home is a surprise to no one, but given that 77.2% of renters wish their apartment was better suited to working from home provides an unmistakable glimpse into how your marketing should be crafted. 48.3% of respondents who wish their apartment was better suited to working from home listed more space as a primary or secondary motivator for an upcoming move, so if you have spacious and/or more functional units, lean into that heavily in your marketing.
77.2%
Desire a better
space for WFH
48.3%
Considering moving
for more space
68.6%
Working from
home more now
Recommendation
Create entire ad campaigns around working from home, showcasing what your community can offer for those seeking more space.
Renters conflicted between saving money and getting more space or a nicer apartment.
62% of all respondents list either more space, better space to work from home, or a nicer apartment as a primary or secondary motivator for a potential move, while 65.6% indicated saving money on rent as a primary or secondary motivator.  In fact, a full 38.8% want to save money AND have a nicer apartment or more space. Meanwhile, 12.4% of respondents listed better service from management as a motivator for an upcoming move.
65.6%
Considering a move
to save money
62%
Considering a
move to upgrade
12.4%
Considering a move
due to poor service
Recommendation
While most real estate marketing is aspirational, now is a time when the people most likely to take action on a move are doing so primarily to downgrade. Craft your messaging around being the best value. Target your marketing toward those who live in more expensive communities.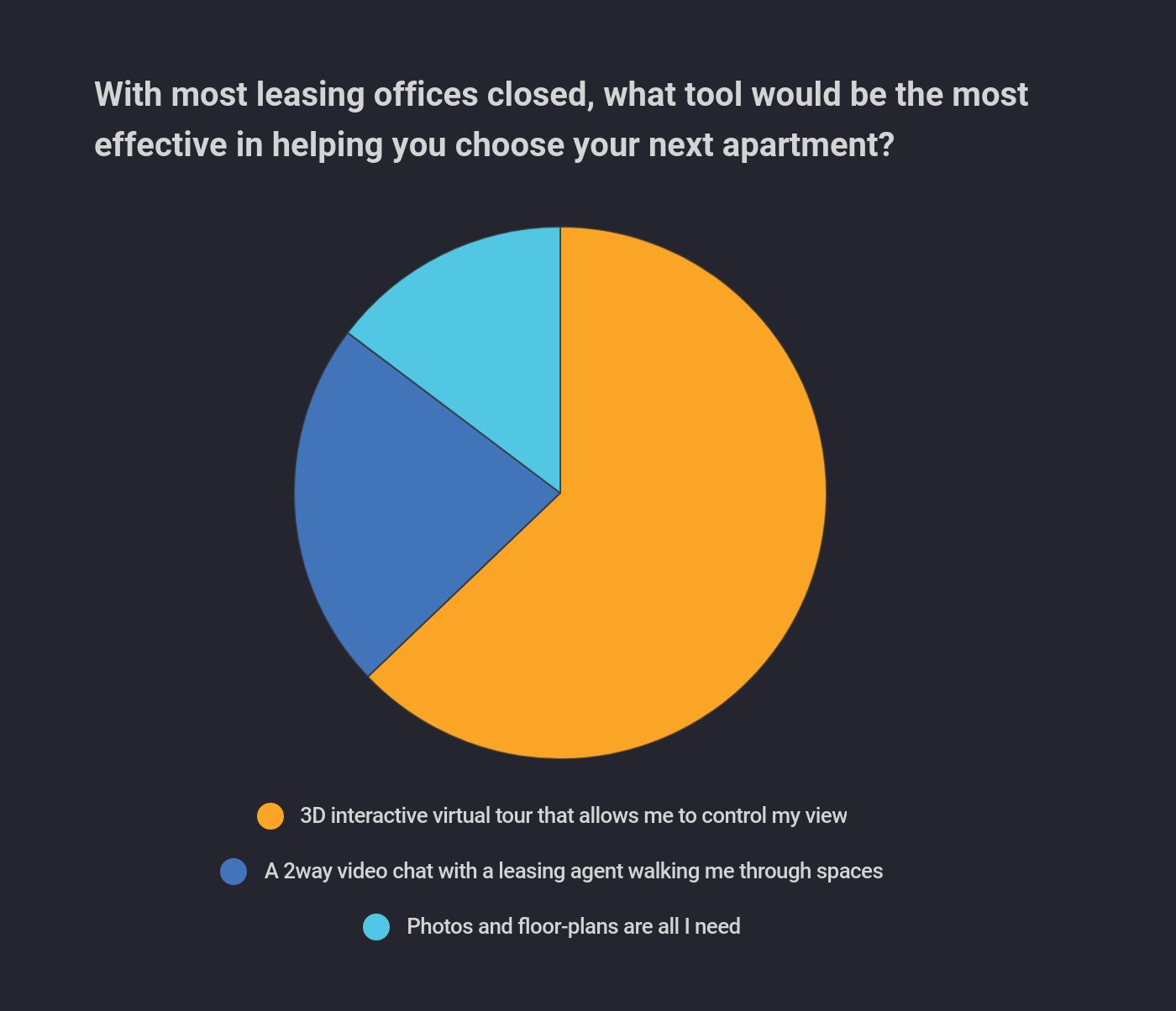 Virtual tours more important than ever.
"Virtual Tour" has always been a term with many meanings in the multifamily industry. But calling a video or slideshow a virtual tour doesn't mean it's what renters find useful. That's why we decided to get specific with respondents to learn which tools would be most helpful in a time when leasing offices are closed and not offering in-person tours.

Overall, 62.8% of respondents said a "3D interactive tour that allows me to control my view" would be the most helpful tool in choosing their next apartment. 22.4% said a "2-way video chat with a leasing agent walking me through spaces" would be best, while just 14.7% said photos and floor-plans are enough. In a control group, when specific brand names like FaceTime and Skype were used instead of 2-way video chat, affinity for that answer rose by almost 25%.
62.8%
Prefer a real
3D virtual tour
22.4%
Want a video chat
with a leasing agent
14.7%
Photos & floorplans
are enough
Recommendation
Use a real 3D virtual tour, like the type produced by
MultiFamily3D.com
, of units and amenity spaces on your website that allows prospects to walk themselves though spaces. If you can't budget for that, use the brand names FaceTime and Skype when talking about video chats.
Additional market factors to watch out for
Long-term, furnished rental inventory is increasing at a compounding rate, most likely due to AirBNB hosts converting their properties to long-term rentals. As traditional AirBNB bookings have grinded to a halt,  owners are unable to keep short-term occupancy, and as their properties enter into the long-term rental market, they are actively creating a new class of competition for traditional apartment communities. Many of these listings are priced well within range of market rate apartments (and sometimes under), but offer condo-grade features and finishes.

We're watching this data closely and will provide more concrete information in a follow-up report.
Actionable Recommendations
Working from home is a primary pain point for most renters surveyed. Gear your marketing toward the functionality of space, explaining specifically why your community is great for working from home.
A huge number of renters are concerned about whether or not they'll be able to afford rent with unknown upcoming effects on the economy, with 24% thinking about breaking their current lease. If you need to reach or maintain a certain occupancy level (read: everyone), you'll need to get creative with your concessions.
Consider offsetting short term financial concerns with higher rent on the back end.
Every property is different, but consider creating a version of these concession examples that work for you:
For new leases, 3 months free on a 15 month lease, with the back 12 months rent increased ~10% above the rent you need to charge for optimal NOI.
Be proactive in avoiding lease-breaks or evictions. Offer up to 6 months deferred rent for residents affected by COVID-19 with job loss or infection. Extend their lease by the same number of months, and increase rent by the appropriate amount. This also provides an excellent opportunity for positive PR, thereby potentially saving marketing dollars.
To win new prospects during a time of stay-at-home orders and social distancing, real 3D interactive virtual tours are far and away the best tool available. There is a lot of confusion among multifamily operators as to what constitutes a virtual tour,  but the renter responses speak volumes. They want to be able to control the angle they're viewing, they want to be able to control where they 'walk around', and they don't necessarily want to be on a 2-way video chat where they have to be on camera. 
In addition to offering virtual tours whenever you can, there is still a subset of renters who like the idea of a video chat, but that number is higher when you use brand names like FaceTime and Skype instead of generic terms like video tour or video chat.